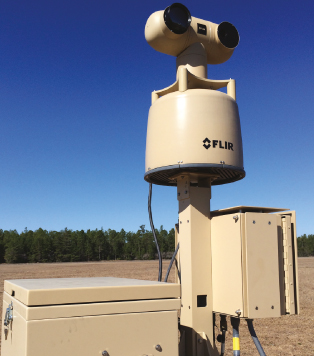 FLIR ARGUS
FIXED SURVEILLANCE SYSTEM FOR PERIMETER SECURITY
Argus is a fixed, rugged, integrated wide-area surveillance system. Combining a best-in-class radar and thermal camera with Command and Control software, Argus is designed to detect and track multiple threats both near and far in the most demanding weather conditions 24/7. When compared to other perimeter security solutions, Argus has the lowest initial cost per kilometer of secured space as well as the lowest lifetime cost.
Built to support airport security, military flight line security, port security, and border security, Argus provides 360° detection and tracking of more than 500 targets simultaneously 24/7. With only two connections—AC power and Ethernet—and installable in hours out of the box, it's extremely simple to integrate. Laser designator, laser rangefinder, laser pointer, and illuminator provide other personnel, vehicles, and C2 systems with target bearing and geo-reference coordinates to identify precise location and direction of the target.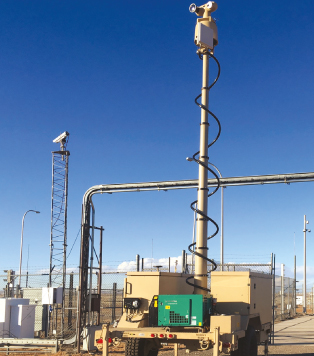 FLIR Cerberus
TRAILER -BASED MOBILE SURVEILLANCE SYSTEM
Cerberus is a rugged, trailer-based integrated long-range mobile surveillance system that rapidly deploys in austere and environmentally challenging environments to provide unmanned remote perimeter surveillance for weeks at a time. Available in multiple range configurations, Cerberus also networks its sensors with other Cerberus units, FLIR vehicles, and command and control nodes, providing unparalleled wide area perimeter security capability.
Built to support force protection, border surveillance, ISR, and target tracking as well as long-range perimeter security, Cerberus integrates radar and visible/thermal camera payloads ranging up to 30 km with slew-to-cue of cameras to radar tracks. Laser designator, laser rangefinder, laser pointer, and illuminator provide other personnel, vehicles, and C2 systems with target bearing and geo-reference coordinates to identify precise location and direction of the target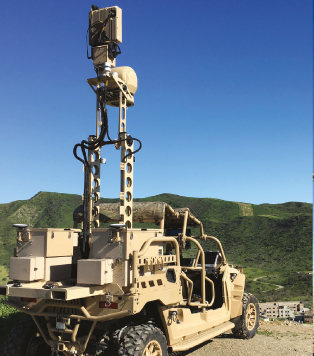 FLIR LTV-X™
ALL-TERRAIN SELF -CONTAINED MOBILE SURVEILLANCE SYSTEM
Building on the capabilities of the LTV, the LTV-X Light Tactical Vehicle is a lightweight all terrain reconnaissance and surveillance system that features a 4-passenger design, a removable sensor/ mast skid, and is V-22 Osprey transportable. Quickly deployable, LTV-X gives operators the ability to go almost anywhere and conduct fully self-contained surveillance missions using advanced radar, electro-optical, and thermal imaging systems.
A single operator can navigate the harshest terrain for long-range missions that support force protection, border surveillance, and target tracking. Complex long-range, world-class sensors seamlessly integrated on a mobile platform maximize ISR and minimize nuisance and false alarms. Swap out payloads depending on the mission. Network with other sensors, FLIR vehicles, and command and control nodes for unparalleled mission effectiveness. Track over 500 threats simultaneously with on board Cameleon™ Tactical advanced camera control system.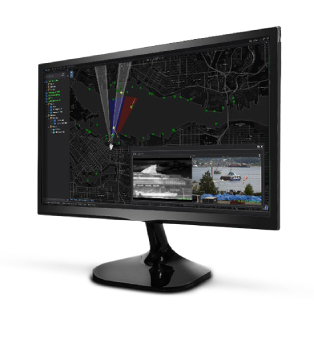 CAMELEON™ TACTICAL
Command and control platform specializing in wide area and perimeter solutions. Cameleon Tactical provides the integration point for end to end wide area and perimeter solutions with both radar detection and analytics capabilities. The Cameleon software suite is a proven and mature system deployed to hundreds of critical facilities around the world. System architecture provides scalability and flexibility to allow customers to continually migrate to new technologies and expand their systems.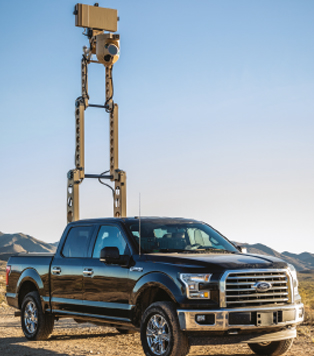 FLIR LVSS™
LIGHT WEIGHT VEHICLE SURVEILLANCE SYSTEM
Protecting vast, remote borders, shorelines, and forward-operating bases calls for speed, mobility, and flexibility. Maximizing the power of a limited number of personnel is also critical. The skidbased FLIR LVSS converts a full-sized commercial pickup into a rapidly deployable command and control center. With radar and EO/IR cameras mounted to its 16-foot mast, LVSS provides efficient surveillance coverage throughout your mission to guard against smuggling, terrorism, and illegal immigration – day and night.
A single operator can deploy, operate, stow, and relocate – all from the cab of a truck. The operator console mounts between two front seats of a truck, allowing for operation from either location. Featuring two 17" HD displays, mouse, keyboard, and camera remote controller, the console can be easily and securely stowed for rapid deployment. Choose from multiple payload options, including radars, thermal imagers, lasers, illuminators, GPS, weather station, inclinometers, and perimeter intrusion sensors.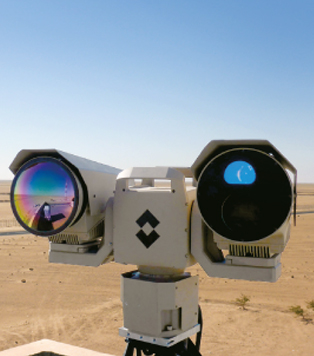 FLIR Ranger HDC MS
HIGH – DEFINITION LONG-RANGE SURVEILLANCE SYSTEM
FLIR Ranger® HDC MS increases mission effectiveness, extending
surveillance through darkness, distance, and especially when "bad weather is good smuggling weather." This multisensor system integrates long-range, mid-wave thermal imaging with a variety of powerful daylight sensors, and optionally a laser range finder, GPS, digital magnetic compass, and automatic video tracker. Read ship names or license plates, or watch the scene from a safe standoff distance of up to and beyond the 15 km range.
Integrated fog and heat turbulence filters penetrate particulates and eliminate image distortion caused by atmospheric conditions. Pan-tilt 1280×720 HD MWIR and visible cameras with powerful continuous-zoom telescopes help detect and identify more targets from farther away. Ranger HDC MS assesses threats while discerning between nuisance alarms and those requiring interdiction for border, coastal surveillance, and force protection surveillance. Besides increasing the mission effectiveness in bad weather, it also helps forces act faster, increase uptime, and reduce cyber risks.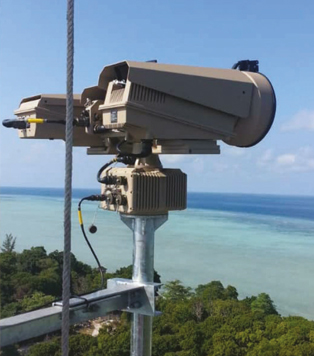 FLIR Ranger® HRC-MS
LONG-RANGE MULTI -SENSOR FOR FIXED INSTALLATION
The Ranger HRC-MS is a high-resolution mid-wave thermal imaging system built around a large format 640 x 480 array and a choice of powerful continuous-zoom telescopes. Available in its standalone, environmentally hardened enclosure, the system can also integrate an optional high-magnification CCD-TV camera, laser rangefinder, digital magnetic compass and fast accurate pan/tilt mechanism for precise target geo-locating.
Tunable DDE digital image enhancement reveals scene details missed by systems offering only histogram or linear image processing. Designed to support missions for perimeter security, force protection and border surveillance Ranger HRC-MS's cooled detector detects a man-sized target at 10 km and vehicle targets at 20 km. Because FLIR controls the entire supply chain on the critical technology inside, fast service and long-term support come standard.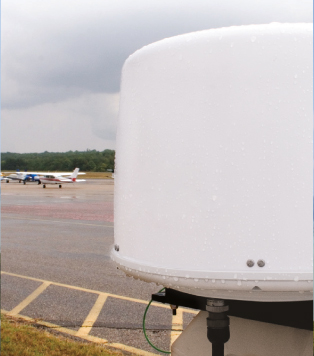 FLIR Ranger R3
HIGH -RESOLUTION PERIMETER INTRUSION DETECTION
The Ranger® R3 is a high-resolution radar that accurately detects personnel and vehicles at a range of up to 2,800 meters in virtually any climate, weather, or lighting condition to provide 24/7 security. Able to scan 360° every second to monitor more than 24 square kilometers (9.6 square miles), it can be integrated in an overlapping array with a variety of other radar and EO/IR units to conform to terrain profiles and protect larger areas such as borders.
Operating in the Ka-band, this radar is compact and highly portable. In addition to border surveillance, R3 is ideal for force protection and securing airports, seaports, and critical infrastructure. R3 provides fast and accurate detection of up to 128 threats simultaneously. For a more efficient, cost-effective solution, integrate R3 with pan-tilt-zoom (PTZ) cameras to identify and assess threats.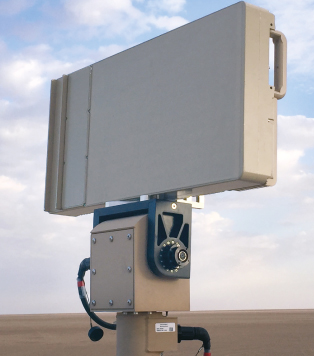 FLIR Ranger R20SS
LONG-RANGE GROUND AND COASTAL SURVEILLANCE RADAR
The FLIR Ranger® R20SS is a ground and coastal FMCW radar specifically designed to detect and track personnel, vehicles, and watercraft at ranges up to 60km. Among the fastest scan rates and lowest minimum detection velocity (MDV) radars available, the Ranger R20SS can simultaneously track up to 512 targets moving in any direction at virtually any speed. Low weight, ruggedness, and easy implementation make it an ideal candidate for vehicle applications.
Built on a digital beam-forming architecture, the R20SS provides continuous 90° coverage that includes "track while scan" capabilities for concurrent targets at different bearings. Adaptive, automatic tracking enables easy integration with slew-to-cue cameras, and when deployed with an optional pan/tilt device or in a multi-radar configuration, the R20SS provides 360° coverage. The R20SS includes standard built-in GPS and digital magnetic compass (DMC) for automatic true north alignment and self-positioning on a background map, which is optimal for rapid deployment.